TERRITORY
Contrary to the last summer when we waded down the Gauja river valley reaching the Gauja National Park, this year we will upstream reaching the Northern Gauja Protected Landscape Area with sharp meanders up to the estuary of Abuls creek. This time we won't use historical maps but the most updated and accurate orienteering maps created for this event. After finish you are welcome to participate in the annual Valmiera City Festival.
Choose your distance
Rogaining walk (2h ~5km) is meant for the children who is 12 years old or younger. The format of Rogaining walk is designed to be in teams, which are accompanied by Instructor - a person provided by organizers. If a child is 7 years old or younger, it is mandatory for a parent or guardian to be present and accompany the child.
2h rogaining, 4h rogaining, 6h rogaining competes teams which are formed from 2 to 4 people, where at least one person is at least 18 years old on the day of the race. In case participants are under 18 years old, they must submit a written permission written by their parents or guardians.
Rogaining run is ~ 14-16km long distance – an orienteering route that is not marked and is made for individual participants, who run or walk the distance, while punching all necessary check-points on the way. Checkpoints are indicated on rogaining map that the participants receive on the race day.
3h MTB rogaining is an individual race by bicycle where a participant plans his/her own route and tries to collect as much total points as possible within 3h. Traffic on roads and railways is not stopped during the race and every participant is obliged to follow the road safety regulations.
Sprint - any team during its race can incorporate and visit 4-6 highlighted checkpoints on the map in any order in the shortest time possible to win a special title "Riverside Pixie" in 3 groups (men, women and mixed teams). Individual participants (Rogaining run and MTB) don't compete in the Sprint.
NECESSARY EQUIPMENT
We recommend you to choose light, sporty clothes and comfortable shoes where you can walk around the city and the forest. For each team, the required equipment is a charged mobile phone (organiser's telephone numbers that can be found on the race map). Recommended equipment in the distance for all teams are waterproof marker for writing, that can be used for planning a distance to indicate a team route, a compass with degree graduation, a ruler, a clock, energy food and a drink.
LIVE GPS TRACKING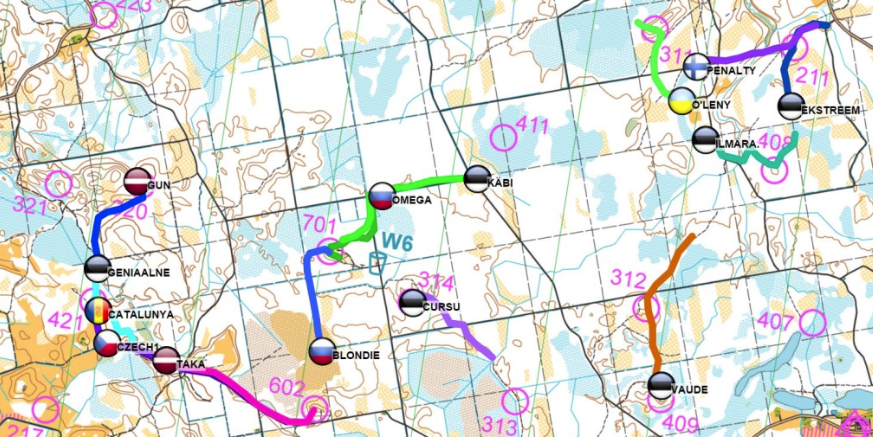 Live GPS is a great tool where you can in Live follow your team, how they choose their route. After the race you can compare and replay routes and strategies your interested teams have completed. To get your Live GPS, you can register it in registration form or write to rogainings@xrace.lv. Price 5 EUR per team.
Link to Valmieras rogaining 2020 live tracking - http://sportrec.eu/ui/#1f28mif
Link to Valmieras rogaining 2019 live tracking - http://sportrec.eu/ui/#1ecoaap
GPS ROUTE recording and analysis after race
If you prefer to record and analyse your own GPS route at home, you can use a smartphone app MapRunF:
iPhone version: https://apps.apple.com/au/app/maprunf/id1468994114
Android version: https://play.google.com/store/apps/details?id=au.com.fne.maprunf)
Open the app > Select Event > Latvia > Valmieras Rogainings 2020 > Go to Start (currently protected by PIN, but shortly before start PIN won't be necessary anymore)
Turn on GPS/Location function in your smartphone shortly before the start (because as soon as GPS is on and punches START automatically, the time will start counting and will add these extra minutes and hours to your total time)
When approaching the start, any checkpoint or finish at the end closer than 15 metres, the respective circles on the map will turn green (collected) and your smartphone will beep/vibrate (henceforth you may leave your smartphone in your pocket or backpack until after finish as long as it continues signalling near each checkpoint thus indicating that it works successfully).
You can also use your GPS smart watch instead of smartphone un after finish upload your GPX route file here: http://www.p.fne.com.au/#/gpsupload
All routes willl be avaible here: http://www.p.fne.com.au/rg/cgi-bin/SelectResultFileForSplitsBrowserFiltered.cgi
If MapRunF by mistake didn't record any of your visited checkpoints, in the app click Show Results > select your just completed event > Review Results (HITMO) and indicate the missing checkpoints.
Map AND LEGENDS
Maps are distributed to each team as soon as they register at the registration desk in the morning of the event. Maps are waterproof but each participant should take responsibility to not damage it especially in wet conditions. Map scale is 1:20 000 or 1 cm on map = 200 m in reality.
As MTB group will join us - tracks and paths will be shown using standard MTB-orienteering symbols indicating ridability with undashed (75-100% speed), slightly dashed (50-75% speed), more dashed (25-50% speed) or very dashed (0-25%) line, the latter meaning that running might be faster on this track or path. Tracks and paths that can neither be used for riding, nor running (overgrown, muddy, very rough) are shown with a standard firebreak narrow dashed line and can be used as a landmark. Ridability varies according to season (overgrown with vegetation in late summer) and weather conditions (sandy roads are easier in wet conditions, whereas muddy roads - in dry conditions).
Even both largest rivers (Gauja and Abuls in the northern part of map) are mostly passable without swimming with only occasional depths (therefore we kept the darker contour (as impassable) around these rivers to warn shorter participants and those who can't swim.
Areas coloured with olive green are either fenced, guarded or discouraged to cross.

Nr.
Kontrolpunkta atrašanās vieta / Checkpoint location
Nr.
Kontrolpunkta atrašanās vieta / Checkpoint location
20
Strauta grīva / Mouth of creek
45
Vārti ielas vidū / Gate in the middle of street
21
Taku krustojums / Path junction
46
Takas-stigas krustojums / Path-cutline crossing
22
Paugurs uz R no taciņas takas / Hillock W of path
47
Deguns kalna ieplakā / Spur in hill depression
23
Z bedre / N pit
48
Strauta grīva / Mouth of creek
24
Ieplaka uz Z no ceļa / Depression N of track
49
Ēkas izvirzījuma A gals / Garage protrusion E end
25
Krūmu audzes Z gals / N end of scrub copse
50
Grāvja A gals / E end of ditch
26
Vidējās sienas DR gals / SW end of middle wall fence
51
Purva DA gals / SE end of swamp
27
Ieplaka uz D no takas / Depression S of path
52
Koks ielas galā / Tree at the end of street
28
Nolūzis dižvītols / Fallen giant willow tree
53
DA sāngraviņa / Little SE side-gully
29
Žogs uz ZR no dūmeņa / Fence NW of smokestack
54
Strauta grīva / Mouth of creek
30
Z dižozols / N giant oak
55
Nožogojuma ZA pusē / NE of fenced area
31
Klajuma ZA stūris / NE corner of open area
56
Mūru stūra D pusē / S side of wall corner
32
Žoga DA stūris / SE corner of fence
57
Virsotne stigas ZR pusē / Top NW from cutline
33
Bedre / Pit
58
Deguns meža malā / Spur near forest edge
34
Bedre / Pit
59
Strauta ZA līkumā / NE bend of creek
35
R grāvīša līkums / Bend of W little ditch
60
Krūms pie žoga / Shrub at fence
36
Bedre / Pit
61
Šaurā klajuma D gals / S end of narrow open area
37
Z krūms / N shrub
62
ZA dižpriede / NE Giant pine tree
38
Grāvju krustojums / Ditch junction
63
Koks uz ZA no dzīvžoga / Tree NE from hedge
39
Virsotne pie takas līkuma / Top at path curve
64
Ieplaka starp vaļņiem / Gap between earthwalls
40
Vaļņa R gals / W end of earthwall
65
Z krastā pie grīvas / N bank near river mouth
41
Klajumiņš krūmājā / Little open area in scrub
66
Krūms uz drupu jumta / Shrub on ruin rooftop
42
Krūms takas vidū / Shrub in mid path
67
D krastā pretī akmenim / S bank opposite boulder
43
ZA koks / NE tree
68
ZR bedre / NW pit
44
Vidējais koks grāvī / Middle tree in ditch
69
Izžuvuša strauta pieteka / Dried tributary mouth
Finišs zem arkas / Finish under arch
* Z - ziemeļu, R - rietumu, A - austrumu, D - dienvidu / N - northern, W - western, E - eastern, S - southern